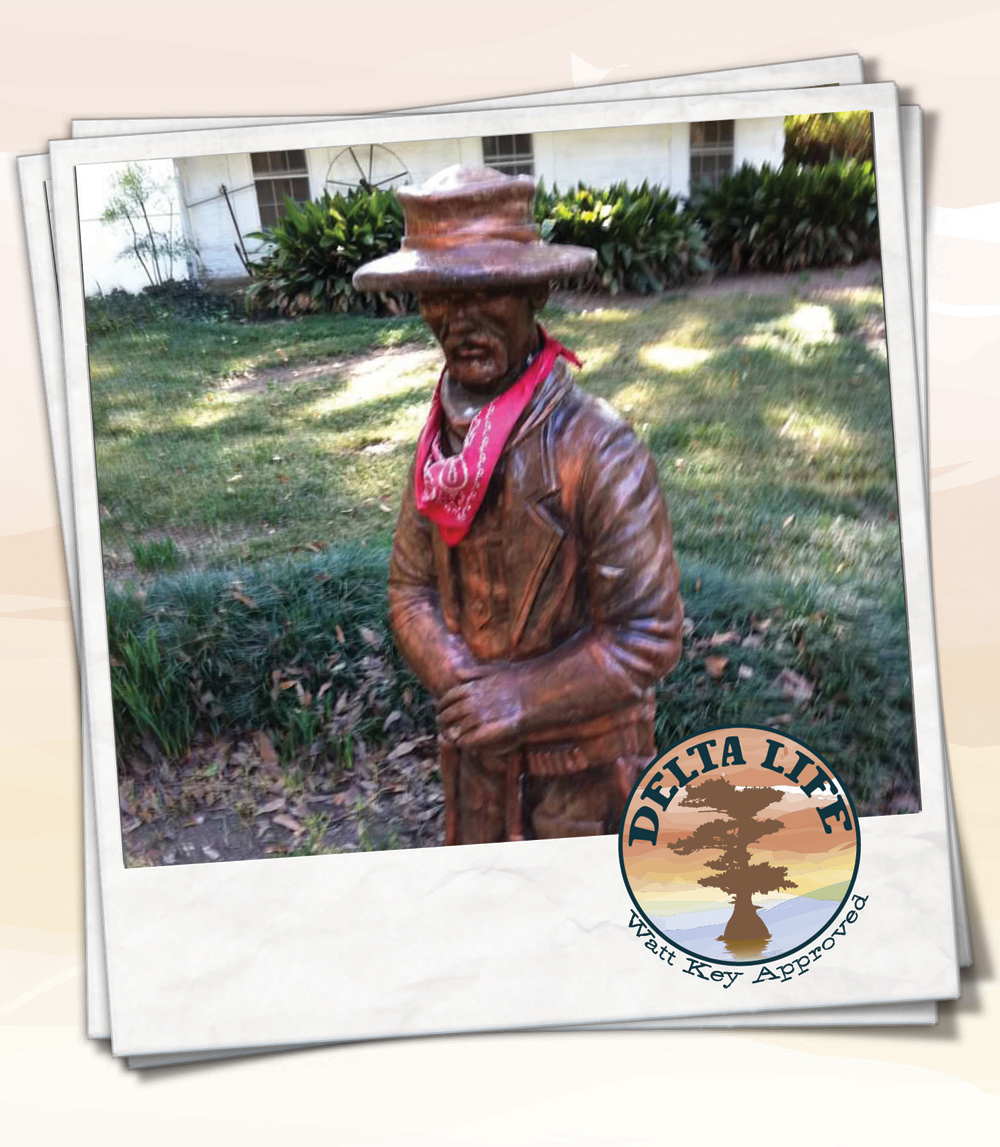 My younger brother, Reid, made an impulsive purchase of a five-foot tall, two hundred pound, cement cowboy at a charity auction. His wife suggested he "take it to the hunting camp."
Reid set it in the yard in front of the camp house where it stood welcoming visitors for the remainder of the hunting season. Our camp is down a long dark road, in the middle of the Mississippi Delta, and already spooky enough without strange statues. We began to get complaints that the cowboy, who we began calling "Dark Dan", was scaring people when they arrived at night and swung their headlights across it.
Every year my extended family spends Thanksgiving week at the camp. After their initial encounter with Dark Dan, one of the wives suggested we find him yet another home so that he wouldn't scare the children.
"Let's put it out in the middle of the woods," I suggested to Reid. "It'll be the weirdest thing ever. And it'll be there for 500 years. It'll scare the crap out of anybody that finds it."
Reid agreed. It would be the next coolest thing ever.
Just after Thanksgiving lunch we struggled to load Dark Dan onto a lawnmower trailer connected to our ATV. Then we set out toward the woods. After nearly a mile of dirt roads we turned into the trees and kept on. To the middle of eight hundred acres of swampy wetlands where no one but a lost hunter had any reason to be. There we slid Dark Dan off the trailer, stood him up in the mud, and admired him one last time.
"Perfect," I said.
"I can't wait until somebody find him one day," Reid said. "They'll be like, what the hell?"
Fast forward to six o'clock that evening. We have twelve children piling in the truck for a raccoon hunt. The "coon" hunter, Homer Bounds, an impressively energetic black man in his seventies, is waiting for us with a truck bed full of eager, howling coon dogs. We are soon at the edge of the big woods and the dogs are woofing at the night and dashing into the trees with their noses to the ground.
Homer encourages them with shouts of "Get that coon!"
The children pull out their tiny flashlights and stared at the dark wall of trees with anticipation.
It's not long before the dogs' woofs change pitch to the familiar sound of a baying coon hound.
"Got him treed!" Homer shouts, starting into the woods.
The children fall in line behind Homer who walks surprisingly fast for a man his age. Reid and I bring up the rear to make sure no one is lost. As we walk behind the mass of bouncing flashlights and kids tripping and falling into the leaves, trying to keep up with Homer, I study the distant baying of the hounds and Reid and I come to the same conclusion at the same time.
"It sounds like they're right by Dark Dan," I say.
"It sounds like they're barking at him," Reid confirms.
Homer and the kids are getting ahead of us. We quicken our pace.
"If Homer sees that thing he's going to have a heart attack," Reid says. And he's not kidding.
"We've got to get up there and tell him," I say with urgency.
But Homer is too far ahead. I realize there's no stopping whatever is about to happen. But as we draw closer to the dogs we realize that they aren't barking at Dark Dan, but somewhere just beyond him.
"That's going to be even worse," I say. "At least the dogs would tip him off."
A moment later we hear Homer's voice booming through the still night, encouraging the dogs. It's obvious to us that he's passed right by Dark Dan and not seen him. Now we just have to worry about the kids.
We are close to catching up with the kids now, but we already see the first of the group filing past Dark Dan, oblivious to the sinister statue beside them. Then, ten year-old Mary Michael happens to pass her flashlight across Dan's face. She stops and freezes, not ten feet from him. Her twin brother, Albert, stops and puts his flashlight on Dark Dan. Albert plants his feet, hold out his arms, and screams at the top of his lungs – the longest scream I've ever heard – like something from the movie Home Alone.
That was just the first of much excitement Dark Dan would incite over the years that followed. It always amazes us just how many people happen to find him in the dark early morning hours on the way to their deer stand or just after sunset on their way back. They shout at him. Threaten him. A few have even been known to draw their firearm on him as they back away.
We have yet to find the next coolest thing.